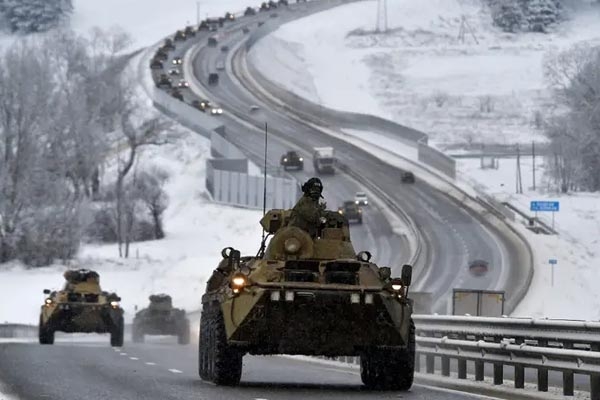 (Image source from: businessinsider.com)
The borders of Russia and Ukraine posed tense atmosphere. The entire world is looking over it and nations like USA are trying hard to resolve the issue between the nations. Russia claims that they have called back their troops from the border at Ukraine. But the USA claims that 7000 more troops are added at the border by the Russia on Wednesday. A senior official in Joe Biden's administration revealed the news though there is no evidence provided. Russian defence ministry announced that they ended the military drills. A video of the Russian military equipment leaving Crimea have been released by the Defence Ministry of Russia.
Japanese Prime Minister Fumio Kishida will speak with Russina President Vladimir Putin today through a phone conference. Ukrainian President Volodymyr Zelenskyy called Wednesday a 'Day of National Unity'. He asked the citizens to display blue and yellow national flag and sing the national anthem. US Vice President Kamala Harris will meet Ukraine's President Volodymyr Zelenskiy and German Chancellor Olaf Scholz later this week at the Munich Security Conference. NATO and the Western Leaders clarified that there is no solid evidence that Russia decided to withdraw their troops. USA also hopes that India would stand by their side in case if invasion.
By Siva Kumar