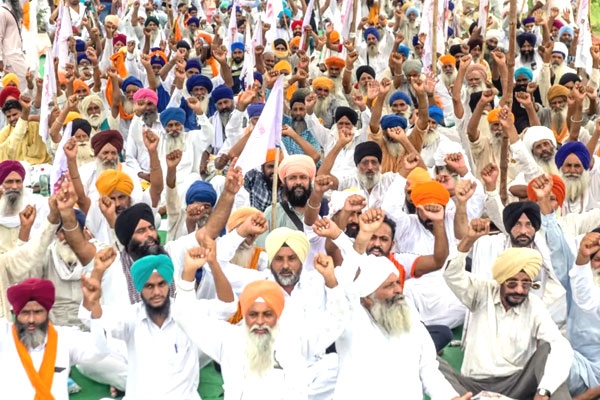 (Image source from: News18.com)
Modi and some of the ministers defended the bills by saying that this move would allow farmers to sell their products to institutional buyers like Walmart.
Indian farmers have intensified the protests over three bills as they believe that these bills would pave way for the government to stop buying the farmers' produce at guaranteed prices.
The farmers believe that these bills would leave them at the mercy of private buyers and retailers.
Prime Minister Narendra Modi and his ministers defended the legislation by saying that these bills would serve as reform measures that will help India's vast agricultural sector.
Modi and his ministers also said that the passing of bills would help remove the middlemen from the farmers trading thereby allowing the farmers to sell their produce to institutional buyers and large retailers like Walmart.
On Thursday, the protests from the farmers' associations have reached a peak with the farmers in Punjab stopping the trains and some local routes which led the railway ministry to cancel some of the trains along the route in Punjab.
Leading farmers' organizations all over India have chalked out plans for a bigger protest on Friday, September 25th with the farmer associations organizing a Bharat bandh all over India.
The opposition parties across the countries, mainly the Congress party is playing a key role in supporting the protests by taking the signatures of about 2000 farmers who are against the passing of these bills.
The Congress party also pledged that it would not stop this mass movement unless the central government revokes the bills or brings changes to them.
Not just the Congress Part, but also parties across India like TMC, AAP, TRS, and other Left parties cam in support of the protests and the nationwide bandh.
Last week, the Modi government's minister of food processing, Harsimrat Kaur Badal has resigned sending her opposition to the bills passed in the parliament which she claimed anti-farmer.
The opposition parties' and the farmer organizations' said that the farmers would lose their bargaining power if big retailers and private traders were allowed to buy directly from the farmers.
Meanwhile, India's farm minister Narendra Singh Tomar on Thursday accused the opposition parties of deviating the farmers and said that the government would continue to buy farmers' produce only at the prices set by the government.
However, in Karnataka, several farmers' associations have called for a shutdown on September 28 to protest against the farmers' bills and also against the policies of the state government to the farmers.
- By Gayatri Yellayi