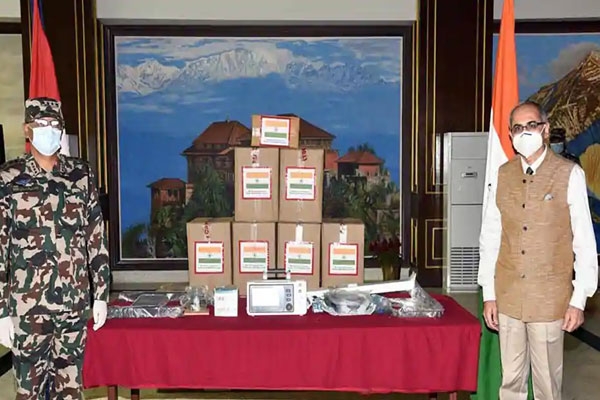 (Image source from: hindustantimes.com)
The ventilators are designed for many applications including advanced invasive and non invasive respiratory support.
Amid the coronavirus crisis and recent border disputes, Indian government gifts 10 ventilators to Nepal's army as a support to the country dealing with the pandemic.
According to reports, these ventilators can perform advanced functions and can be used for critical patients suffering with COVID-19. These ventilators were handed over to Nepal's army by the Indian envoy to Nepal Vinay Mohan Kwatra to Sukirtimaya Rahtradeep General Purna Chandra Thapa, Chief of Army Staff, Nepal's army.
President Ram Nath Kovind had conferred to honorary title to the Nepal's general in January 2019.
The Indian government has released a statement saying that the 10 ventilators are designed to perform special operations including advanced invasive and non invasive respiratory support. The statement also mentioned that Indian army has a long record of extending support to Nepal's army as a first responder for humanitarian support and relief.
It asserted that this gifting of ventilators is an extended move as a part of the humanitarian support exchanged between the two countries.
These advanced ventilators can be used for secondary care in the hospitals with ICU facilities, tertiary multi specialty hospitals, and centers with dedicated ICU's. The Indian government has extended the ventilator support to Nepal in this crisis time because respiratory problems are the main repercussion for patients with COVID-19 and they must be treated immediately with oxygen support.
The ventilators are compact in nature and are portable and handy which is the very important feature as they can be carried easily while transporting patients requiring intensive care.
The Indian embassy assured Nepal's army Chief Kwathri that India would provide all the necessary support to the country till the pandemic prevails or gets over.
The ventilators are indigenous to India and are made under the Make in India campaign. Recently, India has also started exporting domestic made ventilators to other countries after a gap of 4 months.
India has stopped exporting ventilators in the month of March this year as the country is unsure about the severity of the pandemic and might need them in the 11th hour to rescue patients.
However, now as the Indian manufacturers are producing sufficient numbers of ventilators in the country itself, India has started exporting them from this month.
Nepal has recorded a total of 22,592 positive coronavirus cases till now and the death toll has reached to 73 in the country. Meanwhile, India's COVID-19 positive cases has crossed the 20 lakh mark and is among the top 3 worst affected countries in the world.
By Gayatri Yellayi