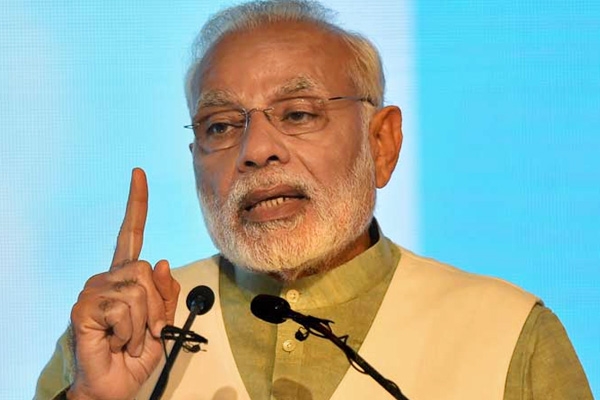 (Image source from: www.rstv.nic.in)
Prime Minister Narendra Modi came down heavily on Pakistan on Friday after Pulwama terror attack he said "If our neighbour which is totally isolated in the world thinks it can destabilise India through its tactics and conspiracies, then it is making a big mistake."
PM Modi said in delhi while flagging off the India's fastest train Vande Bharat Express.
He condemned the terror attack that was carried out on Thursday where more than 40 CRPF jawans were brutally killed.
"The terrorists have committed a huge mistake, they will pay for it," Prime Minister Narendra Modi said.
"I pay tribute to soldiers who lost their lives in the Pulwama attack. Our security forces have been given full freedom. We have full faith in their bravery," he said.
He further said, "The forces behind this act of terrorism and those responsible for it will be definitely be punished."
Former Prime Minister Manmohan Singh along with Congress President Rahul Gandhi in the press conference condemned the terror attack.
Rahul Gandhi said, "This is a terrible tragedy. This type of violence done against our soldiers is absolutely disgusting. We are all standing together with our jawans. No force can divide or break this country."
"This is a time of mourning, sadness, & respect. We are fully supporting the govt of India and our security forces. We are not going to get into any other conversation apart from this," he said.
"Today is the day of mourning. Our country has lost close to 40 armed forces jawans and our foremost duty is to convey to their families that we are with them. We shall never compromise with the terrorist forces," former Prime Minister said.
Earlier in the day, India withdrew the Most Favoured Nation (MFN) status granted to Pakistan. The announcement was made by Union Finance Minister Arun Jaitley following the Cabinet Committee on Security (CCS) meeting in New Delhi.
Pakistani based terror outfit Jaish-e-Mohammed claimed responsibility for the attack in Pulwama's Awantipora area. The attack took place after a suicide bomber in a Mahindra Scorpio car loaded with over 250 kilograms of explosives rammed into a convoy carrying CRPF troops on the Srinagar-Jammu Highway.
-Sai Kumar