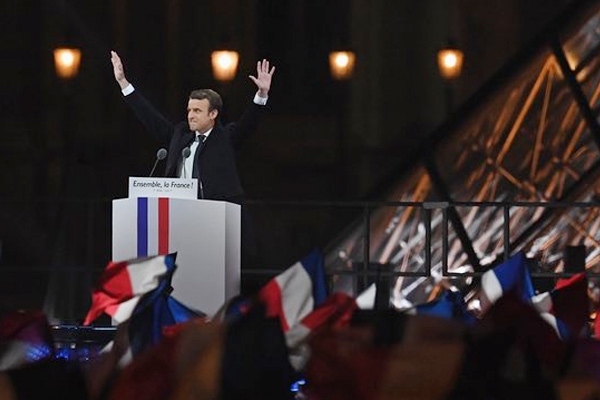 Liberal centrist Emmauel Macron has won the French presidency elections in a decisive victory, by defeating the far-right Front National leader, Marine Le Pen.
At 39-year-old Macron will become Franc's youngest President ever. The former economy minister ran as a "neither left nor right" independent promising to unite a divided and fractured France and took 65.1 percent votes to Le Pen's 34.9 percent. Macron also stood on a pro-EU platform, in stark contrast to his opponent.
Macron left the Socialist government of President François Hollande in August last year to from his new movement "En Marche."
He will also become the first president from outside the two traditional major parties since the modern republic's foundation in 1958.
Thousands of his supporters gathered outside the Louvre Museum in central Paris.
In his speech to the crowd, he said: "Tonight you won, France won. Everyone told us it was impossible, but they don't know France."
Macron said he had heard "the rage, anxiety and doubt that a lot of you have expressed" and vowed to spend his five years in office "fighting the forces of division that undermine France".
He said: "We have the strength, the energy and the will - and we will not give in to fear."
Three years ago Macron was unknown and now he is one of the most powerful leaders in Europe.
European Commission chief Jean-Claude Juncker tweeted: "Happy that the French chose a European future."
Meanwhile, the United States President, Donald Trump tweeted his congratulations to Mr Macron for the "big win" and said he looked forward to working with him.
German Chancellor Angela Merkel tweeted her congratulations, saying Macron's win was a "victory for a strong united Europe".
British Prime Minister Theresa May said: "France is one of our closest allies and we look forward to working with the new president."
Theresa May accuses EU for Election Interference
AMandeep