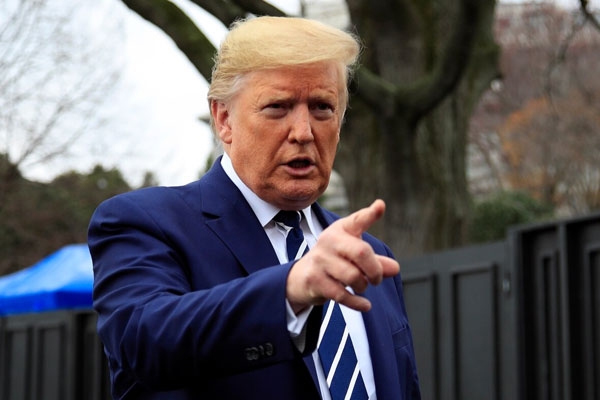 (Image source from: armytimes.com)
Trump signs an executive order to ensure that the federal government lives by a simple rule: Hiring Americans Only.
United Nations President Donald Trump on Monday signed an executive order which prohibits American employers from hiring non-Americans and also bans giving priority to H1B workers instead of native people. The order aligns with the rule that federal contracting and hiring practices must be in the interest of American workers.
President Trump had said that this move is the first time ever that the US has seen and his motive is simply one thing, Hiring Americans only.
The order will majorly change the priorities of the federal government in the US drastically. It would force employers and contractors to hire Americans rather than foreign workers who are in the country on H1B visas.
He said that he is finalizing this executive order because he does not want to see Americans being replaced again. H-1B's must be used for the top and highly paid talent to create American jobs but not as inexpensive labor program to destroy American jobs, according to Trump.
The H1-B is a non-immigrant visa that is used to allow companies in the US to hire foreign workers in specialty operations that require technical expertise and theoretical knowledge.
As per a report, about 50,000 workers were hired based on the H1-B visa program. The H1-B visa is also popular among the highly skilled Indian IT professionals.
The executive order signed by the President Donald Trump states that the head of each agency that enters into contracts shall assess the contractors for any impact of their foreign hiring practices or off shoring practices on the economy till now. It would also assess the efficiency of federal procurement and on the national security and will propose an action if necessary and appropriate.
This assessment would improve the economy and the efficiency of federal procurement and also protects the national security of the country, according to the order issued.
Notably, a few Republican senators had written to the President Trump to suspend all the new guest work visas for 60 days and some of its categories including the work visas or the H1-B visas at least till the next year or at least till the employment figures return to the normal rate or the pre-COVID rate in the country. The decision to sign the executive order by Trump comes after the request from these senators.
According to a survey, more than 33 million American Americans have lost their jobs in the past two months due to the COVID-19 pandemic and its crisis that caused that economy's downfall.
The White House officials predict that the country's economy is likely to go negative by 15 to 20 percent in the second quarter of 2020.
By Gayatri Yellayi