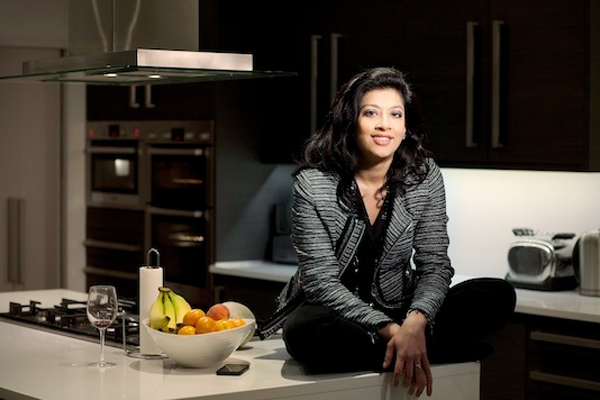 (Image source from: http://www.boemagazine.com/)
An Indian-origin author launches a new cookbook in the United Kingdom and India, aiming at time-poor people who want to recreate a true taste of India in their kitchens.
Mallika Basu's 'Masala: Indian Cooking for Modern Living', was launched in the UK a few months ago and in India this month. It takes a fresh look at family favorite recipes, untangling and updating them for busy home cooks.
Basu, the granddaughter of former West Bengal Chief Minister Jyoti Basu, believes there is no reason to shy away from shortcuts.
"I openly recommend ready shortcuts like packs of roti, jars of pickle. When you're rushing around you need to pick your battles. There is no shame in that," the London-based communications professional-cum-food writer says.
"I have divided the chapters by moments like quick fixes, slow feasts, big platters and, of course, brunch, in a nod to our nation's love of breakfast. You don't have to be an expert at all, in fact, I am quite honest about my failings in the kitchen. I am a home cook who is trying to get wholesome recipes, simply and as often as possible on the table," she says.
Dishes from All over India
Basu has been writing about Indian food for more than a decade and found herself simplifying recipes to fit with her busy life and present-day kitchen.
"So many Indian cookbooks are based on nostalgia and what our grandmothers and mothers did, and yet our lives have changed so much. I wanted to create a cookbook that reflects the way we live, cook, eat and entertain today, and a very contemporary Indian design aesthetic," she explains.
The dishes selected for her new book are favorites from her family home in Kolkata, and her mother's Delhi and Afghani heritage, as well as some newer ones she fell in love with on her recent tours to India.
The dishes are from all over India, with simplicity being the key factor that binds them together.
"The book is a very personal one that mirrors my own upbringing and learning. I was brought up in an unconventional home with flavors from around India and beyond making it into our kitchen. All of this unconventional thinking, deep love and detailed understanding has made its way into 'Masala'," she says.
Packed with Practical Tips
In reference to Britain's own love affair with Indian food, Basu welcomes the increasing admiration of the food of different parts of India but acknowledges a certainly limited view of the complication of the country's cuisine.
Read: Kolkata-Born Scientist Rahul Mandal Wins UK's Popular Baking Show
She says, "There is still a giant post-colonial hangover in the way Indian food is described and viewed...there is no such thing as curry in India, it simply means gravy/sauce, and that the curry house and 'Indian' takeaway food you get in the UK bears little resemblance to what we eat. In fact, it was developed specifically for the British palate and is British food rather than anything else."
Basu's cookery book is packed with practical tips and tricks from busy mundane cooks, including recipe hacks that save time and effort, smart ways to merge vegetables into meals, creative ways to use grains and pulses, tips on fermentation and a sizeable troubleshooting section.
After the promotion in the UK, Basu is presently preparing for a series of talks and book signings in India in January 2019.
-Sowmya Sangam