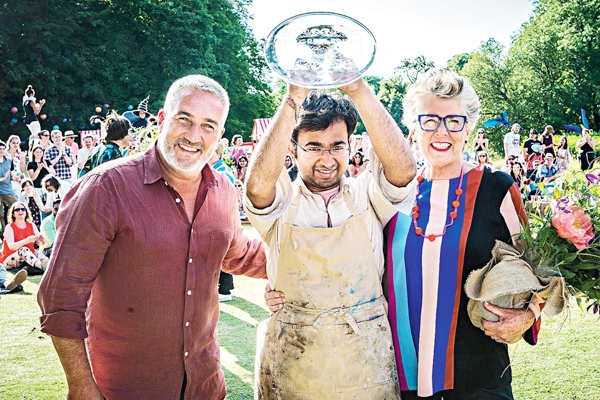 (Image source from: The Telegraph)
A Kolkata-born research scientist, who is currently living in the United Kingdom has crowned the winner of a popular baking show on British television after winning over the judges with his elaborately-designed pastries and cakes.
The 30-year-old Rahul Mandal was declared the winner of Channel 4's 'Great British Bake Off' on Tuesday night after impressing the judges with his "East meets West" style of baking.
As the winning name was revealed, he said: "I don't know whether to laugh or to cry. I just feel I need to talk with my mum."
Mandal was born in Kolkata and moved to the United Kingdom as a student, where he started elevating curiosity for cooking and baking.
Mandal from Rotherham in northern England struggled with disasters during the show's finale when his icing bag exploded during a doughnut challenge. Shortly after, his mixing bowl smashed while he was creating his rock garden, motivated by Victorian explorers bringing back exciting plants from around the globe, for the "Edible Landscape" show-stopper challenge.
Despite the mischances, the taste and quality of Mandal's baking saw him win over the judges as he beat fellow British Indian contestant Ruby Bhogal and Kim-Joy Hewlett in the grand finale of the long-running television show.
"He is one of those characters that you will miss when you are not with him. I don't think he realizes still how good he actually is and I think that's what's magic about Rahul," said celebrity chef Paul Hollywood, one of the judges.
"I never baked when I was in India. My baking journey began in the UK about five years ago when I was feeling lonely, and needed to do something along with my studies," he said.
"At that time, it was limited to making bread and biscuits. The first cake I made was about two years ago when my parents visited the UK for the first time," he added.
The winner is bestowed with a coveted cake stand trophy and the publicity from the show can outcome in a huge career boost for galore contestants.
Every year, amateur baking enthusiasts vie to get a spot among 12 bake-off contestants and spend nine weeks in a large tent to compete in a series of elimination rounds.
"Cooking programs always interested me. Even as a child, rather than watching sports, I enjoyed watching cookery shows. I started cooking and experimenting with food from the age of 15, however, proper everyday cooking started since I moved to the UK," Mandal said.
"I like the simple classics, sometimes with a little twist in it. My colleagues love my Lemon drizzle cake and its cousins like Lemon and cardamom drizzle cake, or lemon and elderflower drizzle cake - they like them a lot," he said.
While baking is a hobby, he sees a connect with his day job as a scientist as he believes precise planning and attention to detail come in handy for both.
"If it is something big, I develop and design it over the week and then execute it over the weekend," he said.
The final three contestants in the 2018 series were evenly matched for this year's finale, which attracted a lot of social media attention.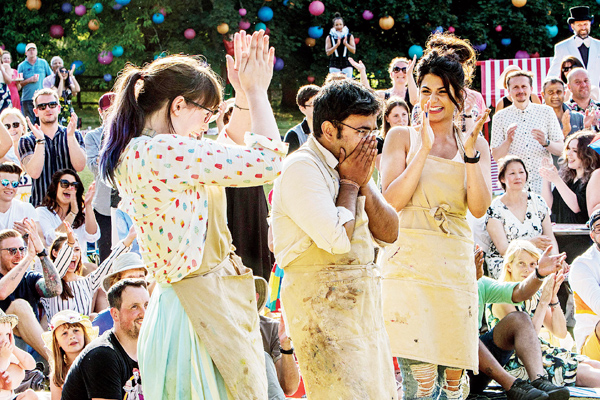 ImageSource: The Telegraph
Fans were split over Mandal being given an extra 15 minutes after he smashed his mixing bowl while creating his showstopper but the majority were rooting for the diffident and humble scientist-baker.
The recent series evidenced a rating success for Channel 4, which took over the show earlier this year following its move from its original home on the BBC.
-Sowmya Sangam