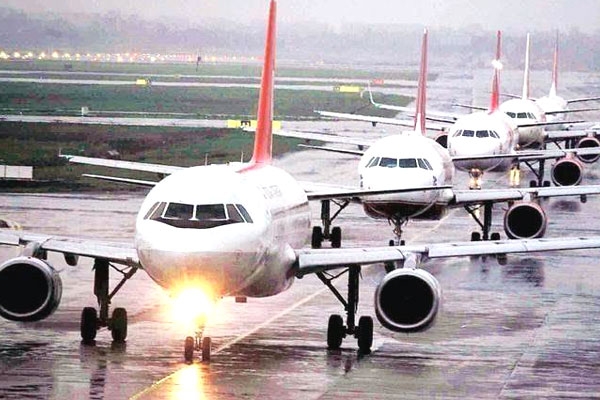 (Image source from: Financialexpress.com)
The only way to travel to and from India amid the coronavirus pandemic is through the air bubbles.
Scheduled international passenger flights have been canceled ever since the nationwide lock that was started on March 24 owing to the coronavirus pandemic.
In May, the Indian government wanted to bring back the stranded Indians and send back the stuck internationals in India to their native places.
For this, India has started the Vande Bharat repatriation mission with dedicated flights to bring back the Indians.
After a few days, India started signing air bubble agreements with those countries whose COVID-19 caseload is less or recovering so that dedicated flights to these countries can be ferried to enable passenger travel.
Air bubbles are temporary arrangements between two countries with an aim to restart the commercial passenger services till the normal services resume.
Which countries have signed air bubbles with India?
To date, India has air bubbles signed with 14 countries including the US, UK, UAE, Qatar, Nigeria, Maldives, Iraq, Japan, Germany, Canada, France, Bhutan, Afghanistan, and Bahrain.
Which countries have restricted passengers from India?
Due to the spike in the number of COVID-19 cases, some countries have restricted the flights to and from India.
●    Kuwait has banned all the flight services to and from India since the pandemic.
●    Hong Kong is another country that has imposed a ban on flights from and to India till October 3 after some passengers in a Vande Bharat flight to its country tested positive for the coronavirus.
●    Authorities in the UAE and  Dubai have also banned Air India express flights after the airline carried COVID positive passengers in two situations. However, the country revoked its ban after Air India apologized.
●    Saudi Arabia also banned the travel to and from India, Argentina, and Brazil but have later allowed the Vande Bharat flights to take back Indians to their country.
●    Only those people are allowed to travel to the destination of the countries only if they are citizens of that country or those who have a green card, OCI card, or any other special status.
●    Indian nationals who hold any type of visa of any country with a minimum residual validity of at least one month are also allowed to travel.
●    Minor children who have OCI cards, OCI card holders who wish to come to India on emergency situations, married couples with at least one of them having OCI card and the other being Indian national, students who hold OCI cards and whose one of the parents is an Indian national are allowed to travel.
●    Seamen holding Indian passports will be allowed to travel to India upon permission from the ministry of shipping India.
●    On September 11, Lufthansa and Air France airlines have been asked to stop flying between India and North America.
- By Gayatri Yellayi